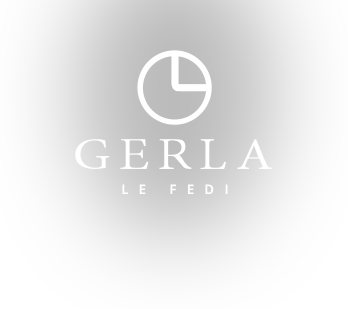 company
ABOUT US
"Let us tell you a story, about normal, hard-working people. The story of a family and of its dream. Let us tell you our story." The Gerla jewellery-making company was established in the 1960s, in a small workshop beside one of the canals that run through the heart of Milan. The founder, Luciano, decided that he would focus the company's entire output on a single, high-value object: the wedding band.

Today, Gerla is among the leading names in Italy for the manufacture of wedding bands.
750/
oo
Every Gerla wedding band features the 750 mark, guaranteeing the authenticity of the material (18-carat gold).
We share a great passion for our work: every day, we create hundreds of wedding bands that are testaments to relationships based on love and life-long commitment.
Symbol of eternal love and commitment, the wedding band represents the union of two lives, a circle perfected by the painstaking work of the goldsmith.
Carved out of a single bar of gold, Gerla wedding rings have what it takes to fulfil your desire: from narrow to wide, rounded to flat, not forgetting our comfort rings – our bands can encapsulate any love story under the sun, or the stars.
HOW IS A WEDDING BAND MADE?
1 Preparation of the alloy
The first operation that is carried out is extremely important, because in order to increase the resistance of the pure gold, it is essential to combine it with other metals (silver and copper, first and foremost).
2 Melting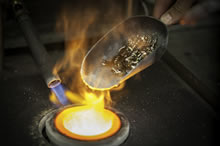 The art of jewellery-making is based on the fundamental laws of metallurgy. Melting is the operation that sees the various components of the precious alloy being fused and amalgamated in accordance with the laws of chemistry.
3 Rolling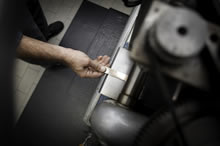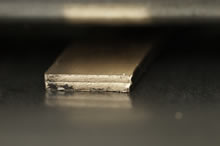 Rolling is a process that involves passing the ingot (produced by the melting process) between two rollers as many times as is necessary to reduce it to the desired thickness.
4 Stamping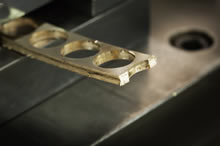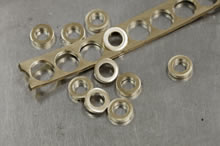 This operation results in pieces of the desired shape and size being detached from the starting piece. In the case of wedding bands, a washer-shaped form is produced.
5 Turning
By removing the shavings, the shape of the wedding band is delineated.
6 Sizing
A special tool takes the wedding band to the required size.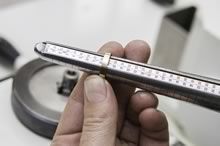 7 Cleaning
With this operation, still carried out manually, the ring is polished both internally and externally.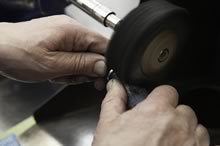 8 Hallmarking
This important operation has to be carried out with great care: the maker's mark and the title guaranteeing the properties of the precious metal are stamped into the inside of the ring.
9 Washing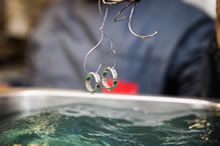 The wedding rings are carefully washed in a dedicated ultra-sonic washing machine to remove all traces of surface impurities.